Main content starts here, tab to start navigating
Grandma Lue. She's not only the namesake of our little slice of BBQ heaven, but she is owner and pit boss Jeff Miller's grandmother. She has handed down many a recipe in her day, and love is always the main ingredient… love and a handful of other super-secret goodies we're not allowed to mention. It's in her kitchen that we learned how truly great food is made. And she's the reason why every dish we create is a scratch-made labor of love from start to finish. So be sure and tell your tongue and tummy to thank Grandma Lue.
Our Guarantee
Not only do we stand behind everything that comes out of our kitchen, but we stand behind a commitment to enriching the lives of our team, our guests and everyone in our community. Grandma Lue would have wanted it that way. In fact, she always made sure we left her table with a smile on our face. Which is why we won't be happy until you leave our table the same way. So if something on your plate isn't up to par, just say the word, and our friendly waitstaff will help you wipe that smile back on your face in no time.
Luella's Bar-B-Que is more than a meal, because our purpose is to provide enrichment to our team, guests and the Asheville community fabric in a way that creates lasting enjoyment and enduring relationships. With multiple restaurants and a large presence in the catered events industry, we are known to be the neighborhood gathering place where guests are treated with inspired hospitality and craveable Southern flavors, and we even bend a few barbecue traditions here and there. We invite you to Taste The Love®
Community Commitment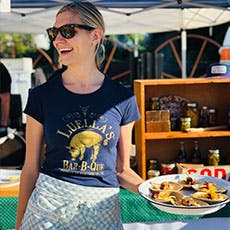 With great barbecue comes great responsibility. That's why we're on a mission to use our pit powers for the good of our community. We strive to support K-12 education programs, music and arts programs, youth sports, and food insecurity programs while supporting the awareness efforts of other local organizations that need a helping hand. Because the way we see it, we're only as strong as the community we serve. If you think we can help your project or organization, don't hesitate to contact our Brand Manager.